Quality Products
&

Service
We pride ourselves on installing quality products with the best quality service!
Our company has 50 years of experience installing gas furnaces in Nanaimo. We specialize in all things heating. Whether you're switching from oil to gas, or going from an old gas furnace to a new one, you can trust the family at Norm's plumbing and heating.
We always have up to date knowledge on rebates from FortisBC, and also offer financing as low as only $40/month. We make sure everyone can enjoy the comfort that a gas furnace has to offer.
We only install the best quality products for your home. We have partnered with Bryant as our HVAC manufacturer due their desire to be the best and do whatever it takes. To find out more about Bryant read Why We Choose Bryant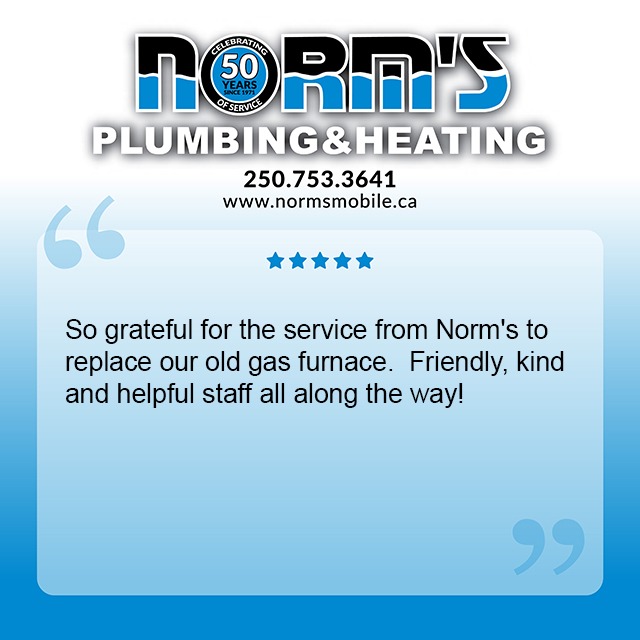 Norm's Plumbing and Heating is Nanaimo's best furnace repair company. Our skilled team will diagnose the problem, present you options, and do whats best for you. We have the knowledge to fix and service your old oil furnace or gas furnace.  We offer a no hassle guarantee, and on most cases will be there on the same day for your emergency to get you heat. We integrate our old fashioned know-how with today's technology. Our staff is also trained in safely removing your oil tank if you are switching from oil to gas.
If your furnace has stopped working or needs a service, contact us today
TESTIMONIALS
What our clients say about us
Absolutely fantastic service. The staff was knowledgeable, efficient, polite and respectful of our home and things. They removed our old oil furnace and replaced it with a new gas furnace in one day. Erin, in the office, walked me through the process to get the prequalification code for the FortisBC grant and even completed the forms for us…all we had to do was sign it and mail it. I highly recommend Norm's
TOP SHELF TECHNICIANS, TOP SHELF SERVICE!!!
Rod paid a visit to the house for a long over due service for the gas furnace, heat pump, hot water tank, and gas fireplace. His outstanding knowledge and no nonsense approach had everything done in record time. I would highly recommend Norm's to anyone needing plumbing or gas work. With out a doubt, these gents have my loyalty. Thank you again gentlemen!
We can't say enough good things about this company. I emailed a request for a quote for a new furnace and got a telephone call TWO minutes later then had a home visit the very same day! The other company (Sloan's) did not even respond to my email and it's been over a month.
The installation went smoothly and efficiently. After the installation, I had some questions and a service person came within two hours to address them and make some modifications.
Wish I could give them 10 stars! Thank you!
Today was my third time using Norms and I have to say I have had extremely great interactions with this company. Dave came out today as we are looking at switching to natural gas at our house and our potential new house. Dave was incredibly knowledgable, straightforward, honest and not pushy. Honestly, when it comes to plumbing and heating services, you get what you pay for! Can't thank Dave and his team for always being reliable, punctual and most of all, being honest and providing outstanding work.
Thank
you so much Erin and your whole team at Norm's.  I have been a fan of Norm's for a few years now.  (Who knew one could get excited about a plumbing & heating company but Norm's, beginning with Dave, has done it for me over and over again through these past 10 years or so.  I recommend you to anyone who will listen.  This time when I needed a new furnace, I had the pleasure of working with Zac.  He is such a gem as all of your guys seem to be.  He went the extra (few) miles for me, especially after I had unwittingly turned the furnace off (I wasn't aware of the on/off switch built into the furnace door) and he showed up all smiles at 8AM on a Sunday morning.  And thank you Erin for making the rebate so easy.  You truly left no stone unturned!  I live in a strata and last month, when we realized we needed to update the main water-shut offs, I recommended you once again and once again, you did a great job.  Thank you!  Thank you!  Thank you!!
OUR GUARANTEE
All our work is guaranteed and covered under our no-hassle warranty. We offer competitive rates and no hidden costs.
JOIN OUR NEWSLETTER
Get news, specials & rebate information, right to your inbox.