Oil Heat Conversion to Electric Furnace & Heat Pump – Home Renovations Eligible for BC Hydro Grant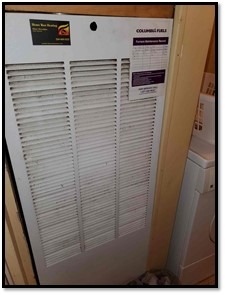 BC Hydro Rebates – Home Renovations
I Dumped my Oil Furnace for Renewable Energy (High-Efficiency Electric Furnace & Heat Pump)
I live in a rural area of Nanaimo, called Cedar. Realizing oil was the main heat source I knew I would be using oil and firewood to heat my home. Although I did not love the idea of using these old non-renewable heat sources the idyllic area and kind neighbourhood motivated me to want to live there.
All went well for the first 10 years, although the heating costs for my modest-sized home of 1650 sq. feet was increasing and costing $175.00 a month for oil and about one to two cords of wood a year at $300-400 a cord. All in all, that worked out to about $216.00 a month. If anyone reading this has used wood before it is not fun, all the chopping, the polluting of the air, and bugs start to get a bit too much.
Like an old Rocket Ship – My Old Oil Furnace – Noisy and Insufficient
Anyone using an older oil furnace can understand the pain of running an oil furnace. It would take almost ten minutes before it finally started blowing warm air. The warm-up (you hear this errrrrrrrrrrrr for an eternity, then finally a relay starts kicking in, then finally the blower starts circulating warm air). My family started identifying the different stages and noises before it finally started to blow air.
Then Covid-19 Came and I Started Thinking Home Renovation
Like many homeowners across Canada, I started thinking about renovations due to all the time spent at home.
I wanted to invest in renovations that would increase energy efficiency, make my home more livable, and products that could increase the value of my home. I have no interest in selling my own home though.
It All Started in My Garage Band Room
I had been using my garage as a Band room for years, however as I invested in more expensive music equipment, I wanted to ensure nothing would get damaged due to moisture or cold.
The garage already had insulation; it was a matter of finding a heat source. The old oil furnace was forced air and I reasoned I could add a couple of heat vents to extend the heat.
As I am not a DIY type of individual, I knew I needed a professional HVAC company and preferred a local Nanaimo-based plumbing company that had good credentials, longevity, and good online reviews.
It didn't take long starting with a Google search to find and read the 100's of five-star reviews for Norms Plumbing & Heating. I contacted them via email for a free consultation.
HVAC Consultation
The person I met with at my home was Carson Rush, a Nanaimo plumber, and a representative for Norms Plumbing. (I later found it was a whole family running Norms, Carson is one of the sons of Dave Rush, the General Manager of Norms!)
Starting in the garage Carson indicated it would not be a problem to add a couple of vents, and additionally mentioned that BC Hydro is offering some sizable grants to get off oil and I might want to check it out.
That I did and found BC Hydro was offering Grants for conversion from oil, wood, and if I recall old baseboard heaters allowing for a Grant to install a heat pump and in my case an electric furnace too.
I then asked Norms Plumbing & Heating for a Full Proposal.
My New Energy Efficient Electric Furnace and Heat-Pump
I chose Norms Plumbing & Heating for many reasons from being a family business, experience and being in business for decades.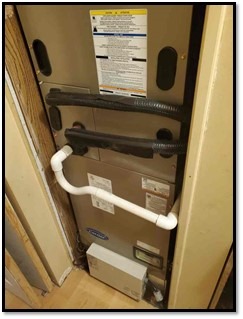 When I realized BC Hydro was willing to pay almost 50% of what it will cost retail I knew it was a good investment.
All my cards on the table, there was an added investment I needed and that was a 100AMP service panel upgrade to compensate for the now fully forced-air electric heated home and heat pump.
I turned this into a positive, that is (back to my garage band room) my garage electrical breaker was shared with a hot tub. If I forgot to turn it off during band practice, sure enough, it would blow the breaker. That is not good for band equipment!
I had the electrician install multiple extra dedicated AC breakers, so I had more than enough power capacity for band practice and a whole lot more.
All in all, I saved about $7,000.00! That is substantial. This is the website that shows current Grants for renovations and more including BC Hydro and Fortis BC for Natural Gas conversions.
Conclusion – Now I am in the 21rst Century with an App-Controlled HVAC System!
My first comment has got to be how fast the furnace kicks in, if you swipe the thermostat (touch screen) for a little more heat, it turns on immediately, no long-winded melody of beastly sounds to throw a bit of heat.
The thermostat and App to control the furnace is called EcoBee, once I downloaded the free app, it was easy to set up and use. You can schedule how long you want the fan to run, holiday schedules, and much more.
The heat pump was installed in a convenient location on the side of my home and is very quiet, the neighbours did not know until I told them!
I am very happy, the fossil fuel heat sources are gone from my home, I will start saving on my energy costs and the SUPER BONUS, my home had never had air conditioning! This summer I can actually go into my house to cool off, not my garage.
Would I work with Norms Plumbing & Heating again? Heck yes, now I want to renovate my bathroom.
Sincerely, Jay Somerville
https://www.normsmobile.ca/wp-content/uploads/2021/05/ductless-heat-pump-house.jpg
566
1152
Norms Plumbing & Heating
https://www.normsmobile.ca/wp-content/uploads/2023/08/Norms_Logo_header-2023.png
Norms Plumbing & Heating
2021-05-19 12:55:25
2023-09-27 17:35:33
Oil Heat Conversion to Electric Furnace & Heat Pump – Home Renovations Eligible for BC Hydro Grant